Chamber Music Pittsburgh (CMP) was established in 1961 by a group of civic leaders committed to providing Pittsburgh audiences with the opportunity to hear the world's finest chamber music artists. Over the past six decades CMP has continued to realize that vision by presenting an impressive array of the most talented and renowned chamber musicians via its MainStage subscription series, its eclectic Just Summer series, and its newest Pittsburgh Performs series that features local Pittsburgh artists in unusual venues outside of the traditional concert hall setting.
In carrying out its mandate, CMP has been guided consistently by two basic principles: quality and variety. Each year's programming is a carefully balanced menu of acclaimed chamber ensembles along with the most brilliant emerging groups. The programs have also reflected a balance of traditional musical masterpieces as well as contemporary, intercultural, and crossover compositions.
Chamber Music Pittsburgh remains a vital element of the cultural life in Pittsburgh and is recognized throughout the classical music world. It is one of the most respected chamber music organizations in North America.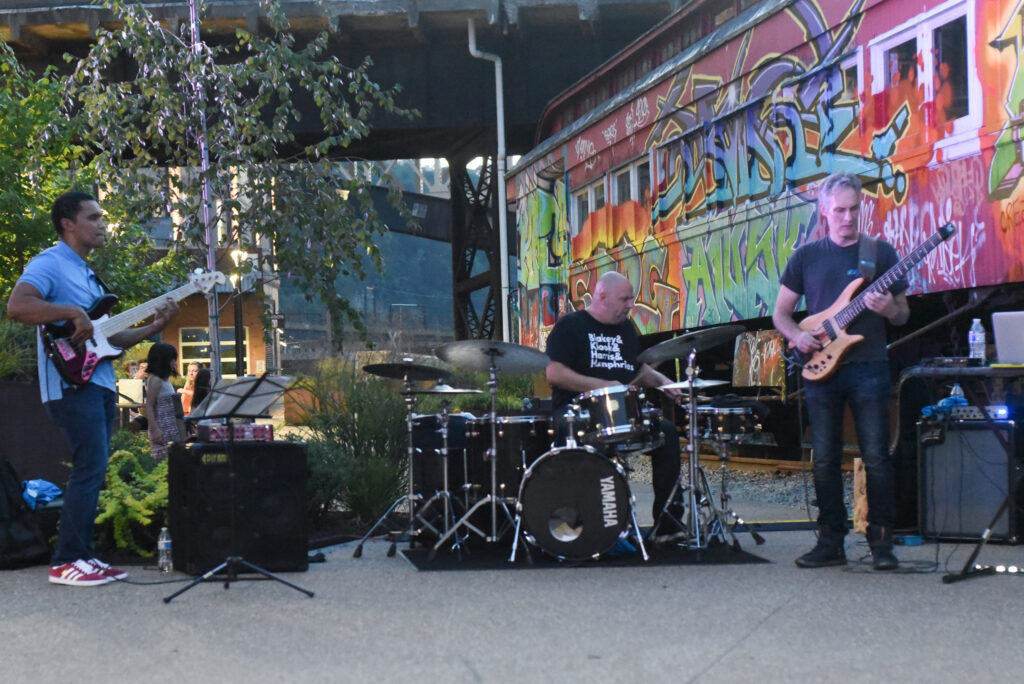 Just Summer Concert Series 2021
Tony Grey at the Pittsburgh Highline
Photo: Michael Canton
Officers
Philip Volpe-Monrean President
Robert Snapp Vice President
Timothy Williams Treasurer
Prachi Jhala Secretary

Directors
Shalini Ayyagari
Ariadne Beldecos
Robert Chiu, MD
Jim Cunningham
Brian Eden
David Harding
Dale Hershey
Arthur J. Kerr Jr.
Jane MacLeod
Lea Simonds
Jordan Taylor
Yurij Wowczuk
Advisors
Owen Cantor
Alan Cope
Jane Downing
Ann Felter
Arthur S. Levine
Kathie Logan
Natalie Phillips
Staff
Kristen Linfante
Executive Director
Steve Wilson
Director of Marketing and Design, Box Office Coordinator
educational mission
Consonant with its mission to present extraordinary chamber music, CMP is committed to cultivating an appreciation for the art in students and adults throughout the Pittsburgh community. To this end, CMP has offered educational programs and experiences including masterclasses and coachings with visiting artists, workshops, lectures, scholarships, practice challenges, student lobby recitals, and ticket giveaways.
Since 2016, CMP has also been dedicated to a partnership with Hope Academy of Music and the Arts in East Liberty by way of a free, need-based musical instrument lending library. The library, owned and maintained by Chamber Music Pittsburgh, allows students and families that could otherwise not afford to buy or rent an instrument, the opportunity to borrow an instrument to play and learn on. These students and families also receive free tickets to all Chamber Music Pittsburgh concerts.