About Chamber Music Pittsburgh
Our mission is to present world-class chamber music ensembles and soloists, promising emerging artists, and innovative programs; and to foster an appreciation for chamber music in the Pittsburgh community by offering educational programs and experiences.
Chamber Music Pittsburgh (CMP) was established in 1961 by a group of civic leaders committed to providing Pittsburgh audiences with the opportunity to hear the world's finest chamber music artists. Over the past six decades CMP has continued to realize that vision by presenting an impressive array of the most talented and renowned chamber musicians via its MainStage subscription series, its eclectic Just Summer series, and its newest Pittsburgh Performs series that features local Pittsburgh artists in unusual venues outside of the traditional concert hall setting.
In carrying out its mandate, CMP has been guided consistently by two basic principles: quality and variety. Each year's programming is a carefully balanced menu of acclaimed chamber ensembles along with the most brilliant emerging groups. The programs have also reflected a balance of traditional musical masterpieces as well as contemporary, intercultural, and crossover compositions.
Chamber Music Pittsburgh remains a vital element of the cultural life in Pittsburgh and is recognized throughout the classical music world. It is one of the most respected chamber music organizations in North America.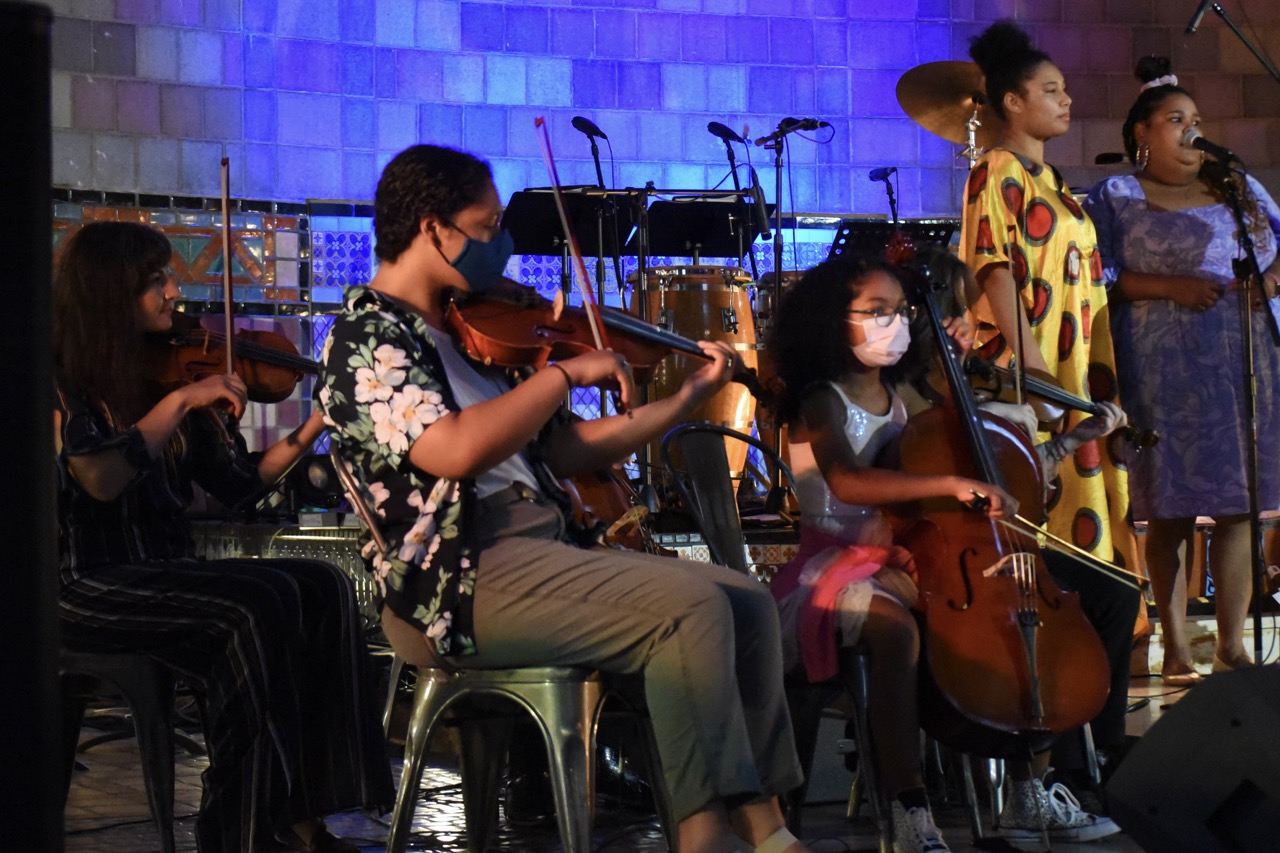 Hip Hop Orchestra from the Hope Academy of Music and the Arts performing at CMP's 60th Anniversary Gala
Photo: Michael Canton
Officers
Philip Volpe-Monrean, President

Timothy Williams, Vice President & Treasurer

Shalini Ayyagari, Secretary
Directors
Ariadne Beldecos
Robert Chiu, MD
Jennifer Crosby
Jim Cunningham
David Harding
Dale Hershey
Jane MacLeod
Joseph Melichar
Lea Simonds
Mark Trimpey
Yurij Wowczuk
Advisors
Owen Cantor
Jane Downing
Ann Felter
Arthur J. Kerr, Jr.
Anqwenique Kinsel
Darrell Kinsel
Arthur S. Levine
Kathryn Logan
Natalie Phillips
Kristen Linfante
Executive Director
Interested in joining our board?
Email Kristen Linfante directly at director@chambermusicpittsburgh.org
Diversity, Equity, & Inclusion
Statement & Commitment
Music is a fundamental tool for self-expression, shaping personal identity and unlocking creative potential in all who create it and experience it. Music, and especially the intimate art form of chamber music, serves as the glue that can connect individuals and groups across diverse beliefs, experiences and perspectives.
When everyone has equitable access to music and the arts, we unlock the freedom to explore and voice personal expression, to use our creativity to achieve purpose, fulfillment and joy in our lives while contributing to the pursuit of a vibrant, just and whole society.
Chamber Music Pittsburgh works to ensure that our programming and practices foster an equitable, diverse and inclusive culture where every individual that engages with us feels welcome, acknowledged, valued and supported within our community.
educational mission
Consonant with its mission to present extraordinary chamber music, CMP is committed to cultivating an appreciation for the art in students and adults throughout the Pittsburgh community. To this end, CMP has offered educational programs and experiences including masterclasses and coachings with visiting artists, workshops, lectures, scholarships, practice challenges, student lobby recitals, and ticket giveaways.
Since 2016, CMP has also been dedicated to a partnership with Hope Academy of Music and the Arts in East Liberty by way of a free, need-based musical instrument lending library.The library, owned and maintained by Chamber Music Pittsburgh, allows students and families that could otherwise not afford to buy or rent an instrument, the opportunity to borrow an instrument to play and learn on. These students and families also receive free tickets to all Chamber Music Pittsburgh concerts.
The Montgomery Fellowship Program was developed in honor of CMP's founder, Mrs. Ruth Montgomery. The fellowship, awarded by audition each year, provides a youth chamber ensemble with coachings and mentorship with Jeremy Black, first violinist of the Pittsburgh Symphony Orchestra, performance opportunties throughout the year, and complimentary subscriptions to the CMP MainStage Live concert series. 
Do you have a string instrument, bows, or accessories to donate?