Support Chamber Music Pittsburgh
You Make What We Do Possible!
Your support helps us present world-class chamber music ensembles and soloists, promising emerging artists, and innovative programs; and to foster an appreciation for chamber music in the Pittsburgh community by offering educational programs and experiences.
We are grateful for your support!
Chamber Music Pittsburgh is a 501(c)(3) nonprofit corporation, and donations are tax deductible to the extent allowable by law.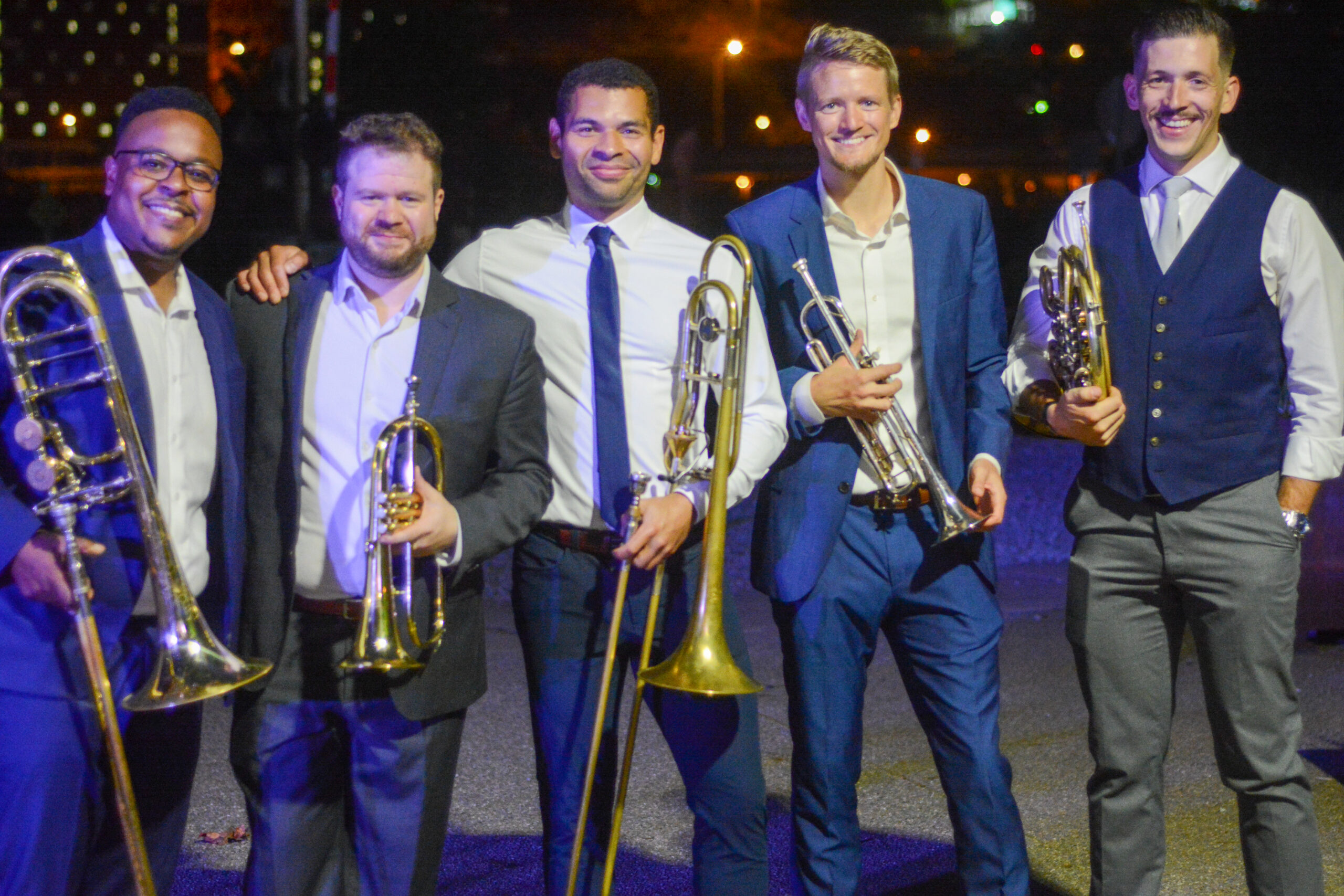 Just Summer 2022 at The Highline, featured C Street Brass and is one of many free programs supported with your donations!
Other Ways To Donate
Call 412-626-6121 to donate via credit card 
Mail a check payable to Chamber Music Pittsburgh to:
Chamber Music Pittsburgh
370 Castle Shannon Blvd., #14816
Pittsburgh, PA  15234
You will receive a tax acknowledgement letter.
Do you have a string instrument, bows, or accessories to donate?
The Beethoven Society
Leave a legacy of music. Play a part in the future of Chamber Music Pittsburgh through your planned gift!
The Beethoven Society has been developed for chamber music lovers who wish to leave a permanent legacy of support for Chamber Music Pittsburgh in their wills or other estate plans. Like the enduring beauty of Beethoven's music, the generosity of our Beethoven Society member lives on – ensuring that future generations can enjoy and be inspired by world-class chamber music in Pittsburgh. Your gift of any size is truly meaningful!
If you have already made a provision for a planned gift, please let us know so that we may welcome you into The Beethoven Society and acknowledge and honor your commitment.
We are immensely grateful to the following Beethoven Society benefactors:
Edith H. Blattner
Gerri Kay
Nathan Melamed
Audrey S. Schoenwald
names are listed in the program according to the following levels:
Impresario: $50,000 – $100,000
Stradivarius: $20,000 -$49,999
Visionary: $15,000 – $19,999
Benefactor: $10,000 – $14,999
Virtuoso: $5,000 – $9,999
Soloist: $2,000 – $4,999
Prodigy: $1,000 – $1,999
First Chair: $500 – $999
Artiste: $250 – $499
Aficionado: $100 – $249
Friend: $1 – $99
our supporters
Chamber Music Pittsburgh gratefully acknowledges our supporters, without whom our concerts would not be possible.
The following list reflects cumulative gifts between August 1, 2022 and August 1, 2023. Every attempt has been made to ensure these listings are accurate and comprehensive; please inform us of any oversights, which are unintentional.
Chamber Music Pittsburgh is supported in part by the taxpayers of Allegheny County through a public grant from the Allegenghy Regional Asset District (RAD). RAD works here. 
IMPRESARIO $50,000+
Anonymous
RK Mellon and McCune Foundations
STRADIVARIUS $20,000- $49,999
Heinz Endowments
The Hillman Family Foundations
Henry L. Hillman Foundation
Laurel Foundation
VISIONARY $15,000-$19,999
Allegheny Regional Asset District
Russell and Kathy Ayres
Juliet Lea Hillman Simonds Foundation
The Opportunity Fund
BENEFACTOR $10,000-$14,999
Armstrong-Pride Fund of the Pittsburgh Foundation
Fine Foundation
PA Council on the Arts
VIRTUOSO $5,000-$9,999
Anonymous
Anonymous Fund of the Pittsburgh Foundation (1)
Jane MacLeod
Frederick W. Steinberg
SOLOIST $2,000-$4,999
Anonymous Fund of the Pittsburgh Foundation (2)
Susan Campbell and Patrick Curry
Robert J Chiu, MD
Brian and Marisa Eden
Jay Klevens in memory of Alice Klevens
Burl JF Moone III
Audrey S. Schoenwald
Alexandre Dombrovski and Isabella Soreca
The Sherle and Michael Berger Charitable Foundation of the Jewish Community Foundation of Greater Pittsburgh
PRODIGY $1,000-$1,999
Jerry Agin and Terri Denmon-Agin
Dr. P Alvin and Mary K Zamba Fund of the Pittsburgh Foundation
Ariadne Beldecos and Robert A Yager
Laurie and Frank Bruns
Patricia K. Crumrine
David Harding 
Dale Hershey
Kathryn Logan
Timothy R. Williams
FIRST CHAIR $500-$999
Patrick and Michele Atkins
Byham Charitable Foundation
Dr. Owen Cantor
William Cornell
Linda and Robert Ellison
Margaret Hamstead
Arthur J Kerr, Jr.
Mike and Cele Levine
Joseph Melichar
Elizabeth Mertz
Paul Needle and Ellen Berne
Josephine E Olson
Dr. Tor Richter and Karen E Esch
Philip Volpe
ARTISTE $250-$499
Anonymous
Susan and David Brownlee
Yeeha Chiu in memory of Nat Melamed
Jonathan Harris
Ellen and Nick Johnson
Elsa Limbach
Joseph Locker
Robert and Laura Marin
Nancy Reese
William J McAllister and Janet L Sarbaugh
Lee and Lyrna Silverman Fund of the Pittsburgh Foundation
Eva D. Vaughan
Clareann Bunker
AFICIONADO $100-$249
Shalini R. Ayyagari
Don and Mary Block
John and Maggie Charley
Rosemary Coffee
Jim and Laurie Cunningham
Judi Diven
Michael Dover
David and Carol Gillis
Marylene Gingras-Roy
Dave Givens
Cathy and Ken Glick
Nancy and Mel Goldstein
Susan Hershenson in memory of Lee Hershenson
Carol Hochman and William Lafe
James Knox
Nancy and Stan Lehman in memory of Edward Jasiewicz
Kenneth Manders
Walt Martin
Mitch and Debbie Levy-McKenney
Sheila and Michael Nathanson
SA Neff
Laura Quinn
Lorrie Rabin and William Paul Pitts
Urban Schuster
Paul and Linda Silver
Henry Snyder
Carolyn Steglich
Judith Sutton
Mark Thomas
Peggy Walsh
Cindy and Walter Watson
Lawrence Yagoda
Ronald Zera
FRIEND $1-$99
Anonymous (4)
Allyn Auck
David Daniel Bowes Jeffrey Brightshue
Karl and Karen Bruch
William Burgunder
 Laurence P Comden
Michele de la Reza and Peter Kope
Arnold Freedman
Michael F Golde
Christopher and Lorien Hart
Tadashi Inagami
Navroz J Karkaria
Rhian Kenny
Danielle Lurie
Deborah L Nichols
William Powers
Peter Sabol
Joan and Clifford Schoff
James and Judith Stark
Linda Theophilus and Dennis Orsen
Francine G Trester
Isaias and Joan Zelkowicz
The Opportunity Fund provides support to continue philanthropist Gerri Kay's legacy of advocacy for civil rights, social justice, and the arts. The Heinz Endowments supports efforts to make southwestern Pennsylvania a premier place to live and work, a center for learning and educational excellence, and a region that embraces diversity and inclusion.