Check back soon for our 2023-2024 Pittsburgh Performs Season Announcement!
Past Pittsburgh Performs Collborations:
Behind Ourself Concealed
Attack Theatre, 212 45th Street, Pittsburgh, PA 15201 in Lawrenceville 
February 24, 25, 26, 2023 
In partnership with Attack Theatre, we're proud to present an enticing evening of contemporary chamber music and dance. This unique collaboration features chamber works from six spectacular composers, drawing from jazz, folk, and world music to create a "multi-hued and stylistically rich tapestry" (Bright Shiny Things). 
The performance features acclaimed cellist Dave Eggar, award-winning jazz violinst Meg Okura, powerhouse clarinetist Tasha Warren-Yahuda, and on Friday and Saturday night there will be a special appearance by Cuban saxophonist and musical legend Paquito D'Rivera.
The performance features works recently commisioned by Cuban musical legend and Grammy winner Paquito D'Rivera, Native and African American vocalist and composer Martha Redbone, Haitian flutist and composer Nathalie Joachim, award-winning jazz violinist Meg Okura, multi-instrumentalist and composer Cornelius Boots, and Grammy-nominated jazz pianist and composer Pascal LeBoeuf.
Italian folk music with Alla Boara
Saturday, October 22, 2022 • 7:30-9:00pm
7604 Charleston Ave, Pittsburgh, PA 15218
Pay what you wish, $15 suggested minimum
The vision of drummer and Cleveland based composer Anthony Taddeo, Alla Boara's modern arrangements of near-extinct folk songs are surprising, playful, mournful, tender, and bewitching.
For this show, the group is promoting the release of their debut album, Le Tre Sorelle. Throughout the album are threads of Italian folk music interwoven with improvisation, modern harmonies and feels that are reminiscent of jazz, rock and world music. It aims to bring new life and recognition to this music, but also displays that our musical heritage is still a fertile ground for new creative cultivation.
The band features the talents of Amanda Powell (featured soloist with Grammy Award winning Apollo's Fire) on vocals, Anthony Taddeo on drums and percussion, Dan Bruce (leader of the :Beta Collective) on guitar, Tommy Lehman on trumpet, Clay Colley on accordion and Ian Kinnaman on bass.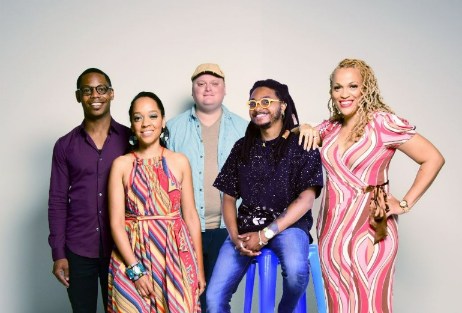 Imani Winds
Wed, September 21, 2022 • 7:00-8:45pm
City of Asylum, 40 W North Ave, Pittsburgh
Free • Donations accepted 
The dynamic and twice Grammy nominated Imani Winds have led a revolution and evolution of the wind quintet through their dynamic playing, dedication to new works from Black and Brown composers, imaginative collaborations, and programming concerts that speak to contemporary social justice issues.
Imani Winds joins us to close LitFest 2022 by performing an all new lineup of works inspired by and interweaving dynamic pieces of poetry.
Program
"The Light is the Same," by Indian American composer Reena Esmail drawing on poems from renowned Persian poet and 13th century sage, Rumi
"Sometimes," by the political composer Fred Rzewski. Inspired by and including the writings of historian John Hope Franklin and the poetry of Langston Hughes
"Cane," by pianist/composer Jason Moran that chronicles the story of a well-documented matriarch of Moran's from slavery to freedom
The evening also features readings of Rumi poetry from Haleh Liza Gafori, translator, vocalist, and poet whose translations of Rumi were released in March 2022 in her collection Gold from New York Review Books.
Part of the Imani Winds' inagural Artist In Residence with CMP