ying quartet with xavier foley
CMP's 2024 Artists-in-Residence
This engagement of the Ying Quartet and Xavier Foley is made possible in part through the ArtsCONNECT program of Mid Atlantic Arts with support from the National Endowment for the Arts.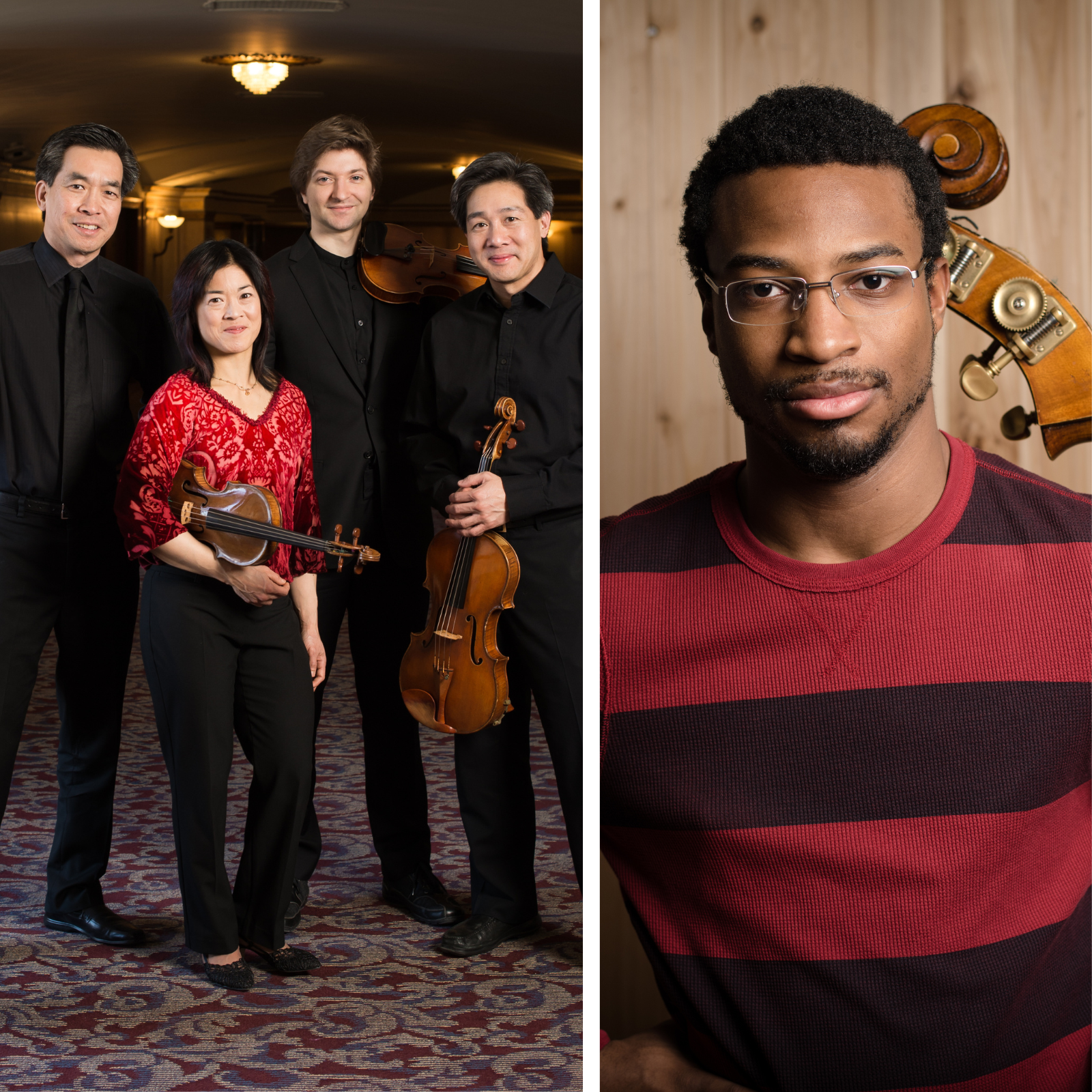 April 8, 2024, 7:30PM
PNC Theatre, 350 Forbes Avenue, Pittsburgh, 15222
Franz Joseph Haydn String Quartet in B-flat Major, Op. 50, No. 1 
Xavier Foley  New Work commissioned by Chamber Music Pittsburgh 
Antonin Dvořák String Quintet in G Major, Op. 77, No. 2
A dazzling collaboration inspired by a shared passion for music old and new.
The Ying Quartet occupies a position of unique prominence in the classical music world, combining brilliantly communicative performances with a fearlessly imaginative view of chamber music in today's world. Now in its third decade, the Quartet has established itself as an ensemble of the highest musical qualifications. Their performances regularly take place in many of the world's most important concert halls; at the same time, the Quartet's belief that concert music can also be a meaningful part of everyday life has also drawn the foursome to perform in settings as diverse as the workplace, schools, juvenile prisons, and the White House. In fact, the Ying Quartet's constant quest to explore the creative possibilities of the string quartet has led it to an unusually diverse array of musical projects and interests.
Xavier Foley is known for communicating his virtuosity and passion for music on the double bass, which is rarely presented as a solo instrument. Xavier is a first prize winner of the 2016 Young Concert Artists International Auditions, winner of the 2014 Sphinx Competition and a 2018 Recipient of the Avery Fisher Career Grant. He has performed recitals at Shriver Hall, Rockport Music, La Jolla Chamber Music Society, Isabella Stewart Gardner Museum, National Gallery of Art, and the Harriman-Jewell Series. An avid chamber musician, he has appeared with the Chamber Music Society of Lincoln Center, Marlboro Music Festival, Tippet Rise Music Festival, Bridgehampton Chamber Music Festival, and Skaneateles Festival. As a composer, Xavier's "For Justice and Peace" was premiered by the Sphinx Organization at Carnegie Hall in October, 2019 and co-commissioned by both organizations. Xavier's bass concerto "Soul Bass", commissioned by the Atlanta Symphony, was premiered by the orchestra this past March.