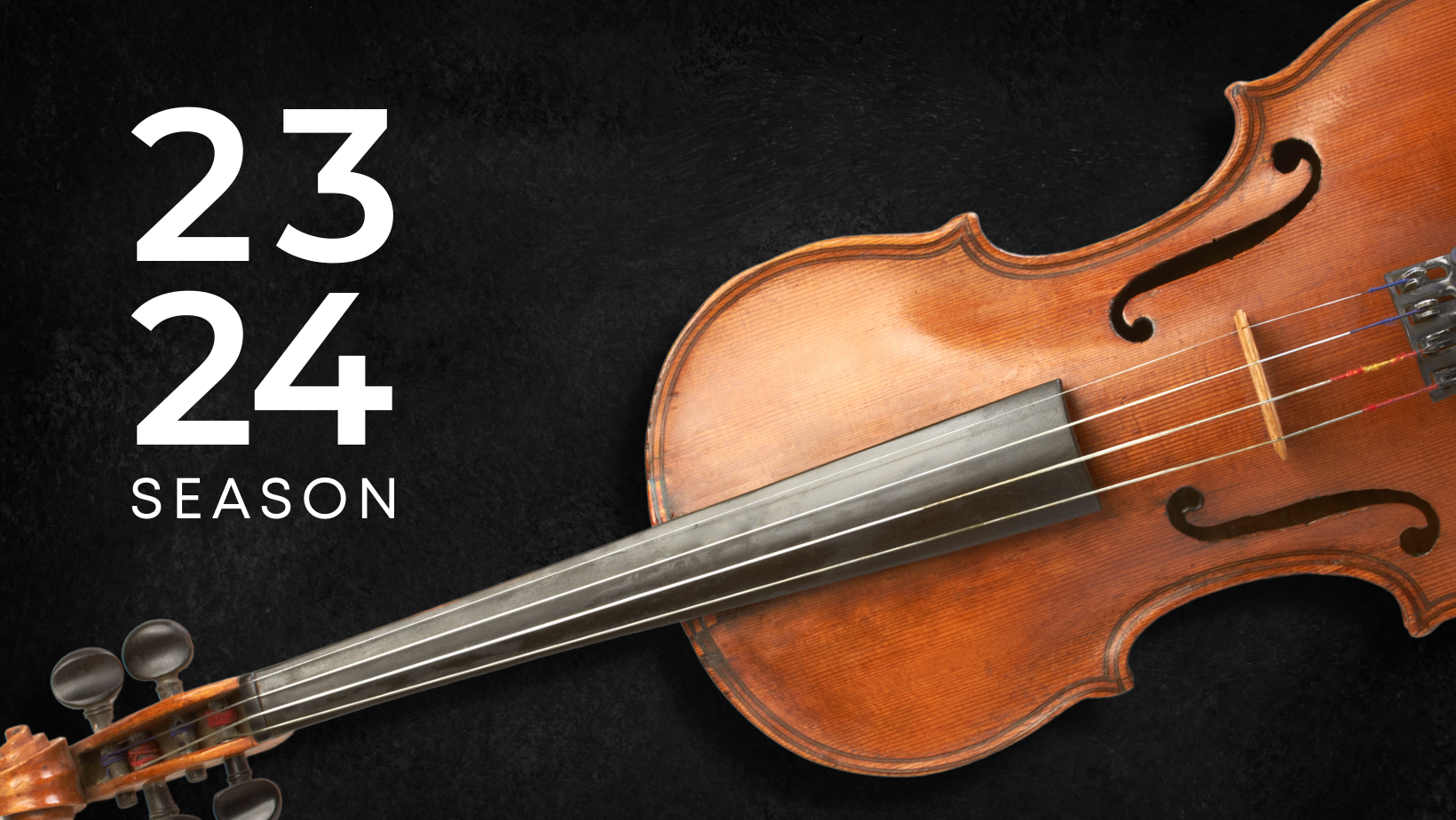 Our 2023-2024 season celebrates the expansion of chamber music through a stunning collection of concerts that display its vibrant range and deep emotional capacity. This year, we welcome some of the most outstanding chamber artists performing today with programs that pair striking new compositions with powerful classics. With six concerts that feature established ensembles and ascending young artists, the MainStage Live series demonstrates the inspiring diversity and evolution of chamber music performance.
Our MainStage Live concerts take place at the award winning Pittsburgh Playhouse of Point Park University, a welcoming, state-of-the-art, new venue in the heart of Downtown Pittsburgh. Join us as a digital subscriber and enjoy a high-quality video recording of each concert following every MainStage Live performance!
In-person subscriptions are no longer on sale, but you may purchase a digital subscription at any time by clicking below.
Save 20% off of regular digital tickets by purchasing a digital subscription!
PNC Theatre
350 Forbes Avenue
Pittsburgh, PA 15222
(corner of Smithfield and Forbes)
SUBSCRIPTION BENEFITS AND DETAILS
How much does a subscription cost?
Tier 1 $255 • Tier 2 $204 • Tier 3 $168 (view Tiers using the seating chart above). Student subscriptions for all tiers are $72.
As always, a subscription offers the best deal for tickets (a 20% discount) while offering you access to the best seats in the house before single tickets go on sale. 
What perks are included with my subscription?
20% off single ticket prices and choice of the best seats in the house before single tickets go on sale 

$5 off any additional single tickets purchased throughout the season

Priority seat selection in the PNC Theatre

Free, high-quality digital recording of each concert via weblink ($144 value)
How much are single tickets?
Tier 1 $53 • Tier 2 $42 • Tier 3 $35 (view Tiers using the seating chart above). $15 Student Rush tickets are available in person on the day of the concert at the box office with valid student ID presented. 
Will Chamber Music Pittsburgh offer digital recordings of concerts this season? How does that work?
Yes; each concert will be recorded live and produced into a high-quality video that will be sent via email one week following the live concert. These recordings are available to view on-demand as many times as you'd like for one week following delivery. All digital recordings are included with every subscription. Digital subscriptions are also available independently for $144 for out-of-town friends and family.
How can I buy a subscription or a single ticket?
Subscriptions can be purchased online here, by mailing in a subscription form (from our season brochure) with a check made out to Pittsburgh Playhouse or credit card payment, or by calling the Pittsburgh Playhouse Box Office at 412-392-8000. Current subscribers should call the box office directly to keep or change their current seats or mail a brochure order form to directly to the box office for processing (350 Forbes Ave, Pittsburgh, PA 15222.) 
Single tickets may be purchased online beginning August 1, 2023 or by calling the Pittsburgh Playhouse Box Office.
What are your protocols for COVID-19?
COVID-19 vaccination and masking are optional. Please do not attend if you are feeling unwell or have been exposed to COVID-19. CMP reserves the right to change, update, and enforce these policies as regulations may change. Please check reminder emails for updated information, and thank you for helping to keep our artists, staff, and patrons safe. 
Where is PNC Theatre at the Pittsburgh Playhouse, and where should I park?
PNC Theater is located at 350 Forbes Avenue, Pittsburgh PA 15222, at the corner of Smithfield and Forbes. There is ample parking within 2 blocks of the venue at the following garages: 
Mellon Square Garage (500 Smithfield St.)
Oliver Garage (350 Oliver Ave off of Wood St)
Third Avenue Garage (238 Fourth Avenue)
Forbes Garage (413 Cherry Way)
All garages offer flat rates between $4-$6 after 4PM. Street parking is free after 6 PM.
Pittsburgh Downtown Partnerships has a wonderful interactive map to find up to date parking info. Find parking map here. 
I have more questions!
We'd love to hear from you and offer any help we can! Please email info@chambermusicpittsburgh.org, call Chamber Music Pittsburgh at 412-626-6121 x1, or call The Pittsburgh Playhouse Box Office at 412-392-8000 for all ticketing related questions.
UP NEXT:
Junction Trio
December 11, 2023, 7:30PM
A "new generation" piano trio featuring three visionary young artists, Stefan Jackiw, Conrad Tao, Jay Campbell.
Amy Williams Bells and Whistles (Pittsburgh Premiere)
Charles Ives Trio for Violin, Cello, and Piano 
Ludwig van Beethoven Piano Trio in B-flat Major, Op. 97, "Archduke"
SPA Trio
February 12, 2024, 7:30PM
Acclaimed soprano, violist, and pianist, Susanna Phillips, Paul Neubauer, and Anne-Marie McDermott, combine for a shimmering concert. 
Felix Mendelssohn Infelice, Concert Aria, Op. 94
Robert Schumann Marchenbilder for Viola and Piano, Op. 113
Amy Beach Chanson d'Amour, Ecstasy, The Year's at the Spring
Richard Wagner Wesendonck Lieder for Voice, Viola, and Piano, WWV 91
Clara Schumann Nocturne for Piano, Op. 6, No. 2 
George Gershwin Let's Call the Whole Thing Off, A Foggy Day/Love Walked In, Our Love is Here to Stay 
Ying Quartet with Xavier Foley
April 8, 2024, 7:30PM
A dazzling collaboration inspired by a shared passion for music old and new. 
Franz Joseph Haydn String Quartet in B-flat Major, Op 50, No. 1
Xavier Foley  New commission 
Antonin Dvořák String Quintet in G Major, Op. 77, No. 2 
DIGITAL TICKETS STILL AVAILABLE
Brandon Patrick George, flute & Aaron Diehl, piano
Recorded September 11, 2023, 7:30PM
Two powerhouse soloists partner to present Songs of Black America
William Grant Still Suite
Florence Price Four Songs
Undine Smith Moore Three Pieces for Flute and Piano
Valerie Coleman Fanmi Imèn 
Intermission
Mary Lou Williams Blues for Peter
Sullivan Fortner Time in Circular Motion (2023)
arr. Brandon Patrick George & Aaron Diehl Three Spirituals 
Valerie Coleman Wish Sonatine
DIGITAL TICKETS STILL AVAILABLE
Jerusalem Quartet
Recorded October 2, 2023, 7:30PM
"Their playing has everything you could possibly wish for." – BBC Music Magazine
Felix Mendelssohn String Quartet No. 1 in E-flat Major, Op. 12
Paul Ben-Haim String Quartet, No. 1, Op. 21
Intermission 
Claude Debussy String Quartet in G minor, Op. 10 
DIGITAL TICKETS STILL AVAILABLE
Kronos Quartet
Recorded on November 13, 2023, 7:30PM
"The Kronos Quartet has broken the boundaries of what string quartets do." – The New York Times
Five Decades
Sam Green/Kronos 

 

Five Decades Video *
Severiano Briseño arr. Osvaldo Golijov

 

El Sinaloense (The Man from Sinaloa) +
Gabriella Smith Keep Going 
Peni Candra Rini arr. Jacob Garchik 

 

Maduswara **
George Crumb God-music from Black Angels
Aleksandra Vrebalov Gold Came from Space *
Nicole Lizée

 

Death to Kosmische *
Laurie Anderson arr. Jacob Garchik

 

Flow +
Stacy Garrop

 

Glorious Mahalia * 
Encores:
Mahalia Jackson

God Shall Wipe All Tears Away
Featuring the recorded voices of Mahalia Jackson and Studs Terkel         
* Written for Kronos; ** Written for Kronos Fifty for the Future; + Arranged for Kronos